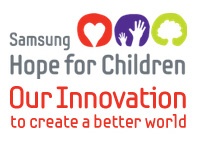 Samsung seems to be on a roll with several products beinglaunched in India of late. Now it seems that they have a big heart too. In a press release, the brand has announced a new HOPE Project to provide better quality education to underprivileged children in certain regions of the country. It aims to spread the initiative across 100 villages in Tamil Nadu with the help of Aid India, and in Delhi and Uttar Pradesh through SMILE Foundation. For funding this initiative, the company will contribute Rs 100 for everyGALAXY Note sold between February and June 2012.
Ranjit Yadav, Country Head-Mobile & IT said, "Our objective is to promote the cause of education for children as widely as possible and encourage more people to join this movement. So while Samsung India will support the Project through the sales of its flagship Galaxy Note, consumers can even support our partners directly and make the Program stronger".
Looks like the Note, which is a notch higher in its specs as compared to its GALAXY S II, isn't doing as well as the brand had initially anticipated. Moreover, considering that it's priced in excess of 30K, the amount does seem paltry for a good cause. However, for once, inflated shipping and sales figures will help benefit a noble cause.