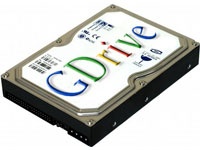 Cloud storage has been gaining wider acceptance as internet speeds have risen and costs have dropped. Googleseems to be getting ready to take advantage of this opportunity by endorsing GMail Drive in a new avatar now simply known as Drive. Interestingly, this new version will have Dropbox-like features.
GMail Drive is a free, third-party Windows Shell namespaceextension that has been in existence for over 7 years. It associates with a Google account and creates a virtual drive on the user's PC using space in the account. This drive can be used just like a normal storage drive with nominal restrictions.
According to the report, it will be possible to store any type of data including photos, videos, and documents on the Drive through a web browser or a dedicated app. This can then be sent to and accessed from any internet-enabled device as a link, rather than a huge file, and users will be able to decide whether to download the file or not. With cloud-storage getting hotter, this new service might take off the way Google expects it to.